Muhammad Abdulkareem -
محمد عبد الكريم
Muhammad Abdulkareem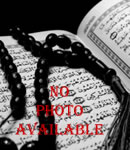 Name : Muhammad Abdulkareem
Country : Saudi Arabia
Hits : 19551


Biography of Muhammad Abdulkareem
Sheikh Muhammad Abdulkareem is a famous reciter and imam of big fame, and very talented clergyman. He from Saudi Arabia, where he lived all his life and his childhood. Indeed, over there where he was soaked by this particular Islamic atmosphere in Saudi Arabia.
Currently, Sheikh Muhammad Abdulkareem is the Imam and the famous clergyman of the big mosque Al Kawtar, located in the district Safa in the holy city of Jedda in Saudi Arabia.
The Sheikh Muhammad Abdulkareem recorded numerous religious tapes containing Koranic recitations. Web sites, Saudi Tv channels and radio stations spread his magnificent psalmody and his incredible voice.
Photos of Muhammad Abdulkareem
No photos available.
Comments
No comments yet - be the first.