Abdul Rahman Al Sudais -
عبد الرحمن السديس
Abdul Rahman Al Sudais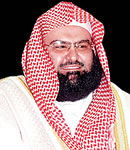 Name : Abdul Rahman Al Sudais
Country : Saudi Arabia
Hits : 442351


Biography of Abdul Rahman Al Sudais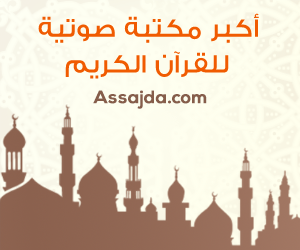 Abdul Rahman Al Sudais, whose full name is Abdul Rahman Ibn Abdul Aziz Al-Sudais, was born in 1961 (corresponding to the year 1382 of Al-Hegira) , In Al Anza tribe, and more exactly in El Bakiria in the region of El Kassim in Saudi Arabia . He is currently the imam of the big mosque of Mecca, the Islamic city of excellence, where thousands of pilgrims go there every year to meditate and devote themselves to their worship. Indeed, Abdul Rahman Al Sudais is also famous for Quran recitation in the "hafs" version. He is actually known on the international scale, including his own country Saudi Arabia.
Since the age of 12, he knew, by his tremendous worship to Allah, and his passion for the Islamic religion, how to memorize sixty Suras of the Koran in just few years. This fact shows his will and his desire to approach the divine virtue towards Allah the most merciful.
Abdul Rahman Al Sudais has lived all his childhood in Riyadh, where he first took his steps in the Islamic world. Over there, he attended the primary school named Ibn Haritha, from there he immediately joined the scientific Institute of Riyadh. In 1979, he received a degree from the same scientific institute of Riyadh with an honorable mention.
Furthermore, in year 1983, Abdul Rahman Ibn Abdul Aziz Al-Sudais was readly accepted in the university where he started his studies and at the same time kept his desire of passing on to people his growing passion and concern about the Hadith. This enabled him, little by little, to obtain a degree in the Sharia at the Islamic university of the well known imam Muhammad ben Saud in the year 1987.
His passion kept growing until he obtained, with courage, a doctorate in Islamic Sharia at the university of "Umm al-Qura " in the year 1995 . Finally, Abdul Rahman Al Sudais was awarded as being the Islamic character of the year 2005, in the 9th annual international Award of the recitation of the quran (Corresponding to the year 1426 of the Hegira); a certified institution by Dubai International Holy Quran Award's organization (or DIHQA).
Throughout his entire life, Sheik Abdul Rahman Ibn Abdul Aziz Al-Sudais has developed a sense of excellence, incredibility, and smoothness of his exceptional voice. This Islamic celebrity is known for his brilliant, indescribable chant (Tajwid in the Arabic language) of the holy Koran.
Videos of Abdul Rahman Al Sudais
Photos of Abdul Rahman Al Sudais
Comments
No comments yet - be the first.