Samir Belaachya -
سمير بالعشية
Samir Belaachya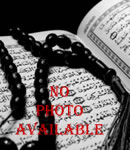 Name : Samir Belaachya
Country : Morocco
Hits : 21669


Biography of Samir Belaachya
Samir Belaachya is a religous man, from Morocco ;where he learned Tajwid the Holy Quran and to recite it in excellent way.
Since his youngest age, Samir Belaachya kept his passion for the Islamic sciences during his passage, by the high school Ouad El Dahab in Morocco. In spite of the difficulties of the job which he chose, he never give up.
Hence, Samir Belaachya became little by little famous, and his productions of Koranic recitations are spread on internet, Moroccans radio stations, and the religious TV channels.
Photos of Samir Belaachya
No photos available.
Comments
No comments yet - be the first.