Mohamed El Barak -
محمد البراك
Mohamed El Barak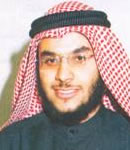 Name : Mohamed El Barak
Country : Kuwait
Hits : 57641


Biography of Mohamed El Barak
The great Sheikh Mohamed El Barak, a famous Islamic man, is an imam and a clergyman whose fame reaches the summit on the international scale. Mohamed El Barak is from Kuwait, his native country where his passion for the Islamic studies was born. In Kuwait, Mohamed El Barak decided to learn and memorize the Holy Qran, book of our God, Allah.
It is told that Mohamed El Barak travelled a lot through the Muslim peninsula, sharing with the Muslims his talents, and his magnificent harmonious voice.
From there, Mohamed El Barak recorded several Quranic recitations, which are spread by numerous media, web sites and radio stations.
Photos of Mohamed El Barak
Comments
No comments yet - be the first.